Home > Weather Instruments > Barometers > Antique Barometers > Sold Antique Barometers > Negretti & Zambra Fisherman's Aneroid Barometer


Home > Antiques > Antique Barometers > Sold Antique Barometers > Negretti & Zambra Fisherman's Aneroid Barometer

Negretti & Zambra Fisherman's Aneroid Barometer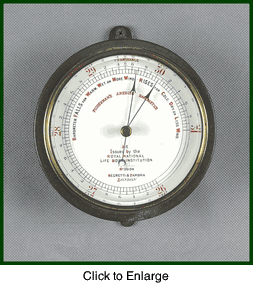 Early 20th Century Aneroid Barometer by Negretti & Zambra of London. Reads "As issued by the Royal National Life Boat Institution, No 26194." These were given to various ships by the goverment to help prevent tragedies at sea.

Metal case with brass bezel. Bevelled glass. Enameled dial. Measures 6" diameter by 3" thick. Good working condition.



Questions? Call us Toll Free 1-800-646-1203 for friendly, expert advice.